New Public Leadership and Active Citizenship in New Zealand
Lecturing about my new book (2018): Harnessing the disruptive power of citizens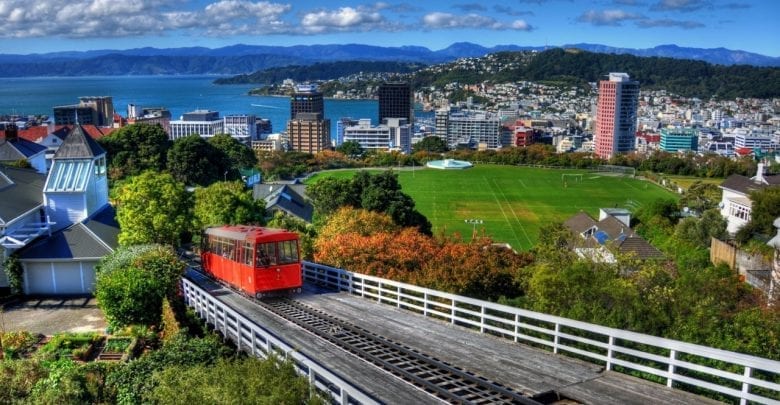 Recently, in April 2019, I was invited to visit Wellington, New Zealand to hold some lectures about my latest book.
It's all about strategy in the public domain
In New Zealand as in other countries where I lectured, it's all about strategy in the public domain: my strategic analysis of the fundamental changes due to the ongoing #digitalcivilrevolution is certainly recognized by my audiences in New Zealand, but where and what to change as an answer to these disruptions is a big question and leads to big debates. Should we decentralize public administration and give municipalities more room to connect with active citizenship? Should we give much more governance power and say to citizens in all kinds of public services, like health care and education? Does the much greater competition in the political arena about public leadership lead to better political leaders and in line with my direction that civil leadership is the future of leadership? And: how about private persons initiating public action, are they already there and are they becoming more visible, accepted and important?
Inspirational exchanges with thinktanks
The main invitations were to lecture about the strategic analyses and insights of my new book 'Civil Leadership as the Future of Leadership'. I also succeeded in combining this invitation with having conversations with private thinktanks as the colleagues of Public SPACE Foundation. In this case the New Zealand Initiative.They want to support New Zealand and NZ economy to become leading and innovative in the Pacific Region. The other one was the Local Government New Zealand, they want to stimulate and strengthen local government in New Zealand. Apart from that I had the opportunity to meet the Dutch ambassador in New Zealand, Mrs. Woldberg.
I was of course very happy with the broad interest in my work and latest book and the broadly felt willingness to hear my lectures about it. I prefer these kind of executive audiences, because this exchange of ideas and practices from the viewpoint of responsible persons teaches me the most about the typical ways of thinking, the institutional practices and the possibilities and practices of civil leadership. I will later use these inspirational exchanges to further my thinking and update the insights of my book. Writing books is a kind of ongoing process and in this way I learn as much as my readers.
Involving active citizenship in local government and public services
My lectures were in the context of and on invitation of the Public And Political Leadership (PUPOL) research association, the LGNZ and the Institute for Public Administration New Zealand, which aims at promoting the quality of public administration by networking, seminars and education. The most interesting points I picked up and now keep thinking about, are:
In theory there often seems to be a close connection between promoting and facilitating active citizenship and local government. In New Zealand this theory of course also has its supporters. Main problem seems to be that public administration  is very centralized at the moment, leaving little room for municipalities to have their own policies and organizational structures to cope with active citizens. This also leads to a rather negative view of citizens themselves to lean on and cope with their local governments. The highly centralized institutional order and practice so reinforces itself by undermining strength and reputation of decentralized practices with active citizens.
It certainly seems as if New Zealand doesn't have as much structural involvement of citizens with public services as it is the case in Holland. For that typical structure I invented the concept of 'societal enterprise' (see note 5, p. 223 and further). I used this term to emphasize its social purpose and entrepreneurial background on the one hand, but also its very strict and official place in laws, state supervision and statefunding of the public services side on the other. In the Netherlands this public/private model exists in five important segments of public service: health care, education, public broadcasting, social housing and pensionfunds. Despite these historical and structural advantages to involve citizens, the biggest struggle in the Netherlands as in all western countries, is about political power and bureaucratic control, which states and politicians everywhere are very unwilling to let go, even in favor of their citizens. The only examples of this kind of structural involvement of citizens in public services in New Zealand I heard were the Regional Health Care Boards and some schools that were run by cooperatives of elders of pupils. Both models were also principally in discussion!
"Because of the growing, sometimes even disruptive power of citizens and the fundamentally new public arena these new powerful citizens need this new public leadership."
Of course much of my lectures was about the new public leadership that is needed because of the #digitalcivilrevolution, called 'civil leadership' in my book: the leadership of 'one of us, citizens'. Because of the growing, sometimes even disruptive power of citizens and the fundamentally new public arena these new powerful citizens need this new public leadership. In the context of New Zealand I was of course very much helped by the fact that their Prime Minister, #LucindaArdern, certainly showed this kind of leadership in her handling of the assault at Christchurch and the feelings afterwards of the muslim community there and the abhorrence and at the same time warm feelings in the rest of the country for these victims. She showed compassion and empathy and also how to handle and name some ethnic or religious tensions and in doing so kept the country 'together'. She also showed that leadership also means using your formal position with the same attitude and values. In her case by immediately proposing new laws around the posession of weapons. New Zealand seems to take her special and timely leadership a bit for granted. This seems a case of 'too close to notice'. After some three years of international lecturing about the subject my conclusion is that this new kind of public leadership is mostly coming not or too late from incumbent politicians, so everywhere runner ups from outside the political elites, like Trump, Macron, Baudet and Zelensky win elections, like we also saw in disruption of markets due to the hesitant and backward reaction of many incumbent marketparties some 7-10 years ago.
There is a lot more to think about after my visit to New Zealand and these lectures. I will do so over the coming months, while continuing my international lecture tour in San Francisco and Finland. I have met several inspirational people and certainly hope to keep in touch and further exchange ideas with them. As with all thinktanks in this way I aim to create an international learning community about these very important issues of civil leadership and the new power of citizens.